By: Mark Frazee | Content Manager - Pittsburgh HUB
Better. Brighter. Fresher than Ever. You've likely heard this mantra we're using to describe Sandcastle since its major refurbishment project began for the 2022 Season. Have you checked out all the updates? Today, we're counting down the top 10 best improvements to come from the project - so far!  We'll go in the order you're likely to notice these areas as you arrive at and enjoy Pittsburgh's Hometown Waterpark.
1. A Fresh, Beachy Feel From the Very Beginning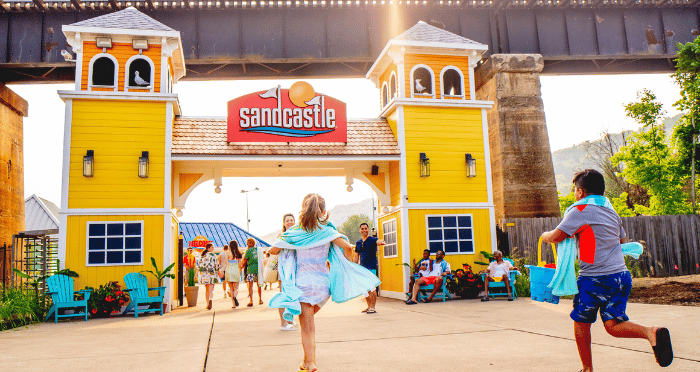 First impressions are everything. From the moment you enter the park, you'll be greeted by vibrant, beach-like colors to remind you of brighter days down at the shore. Inside the park, you'll notice that just about every building has received a fresh coat to brighten things up.

2. The Sandcastle Bridge Bar and Grill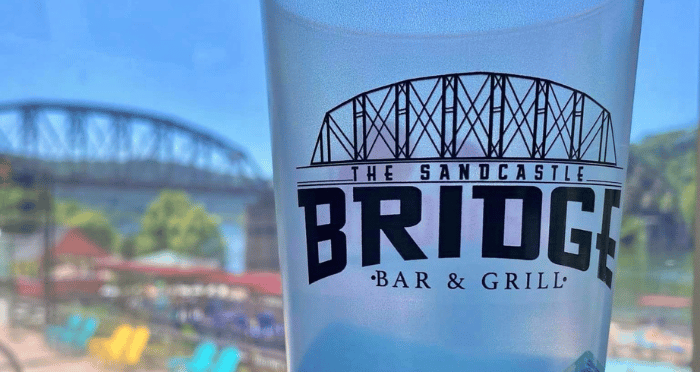 This project began in 2022, but it's really taking off in 2023. The Sandcastle Bridge Bar and Grill is Sandcastle's newest eatery, featuring a beachy menu with favorites like shrimp tacos, loaded waffle fries, draft beers, tropical cocktails and more! This year, we're adding additional seating elements, including an outdoor area, to bring the relaxing atmosphere out to the midway. The Sandcastle Bridge anchors the far end of the Boardwalk, offering the perfect place to take a mid-day break from our thrilling slides and relaxing pools.
3. A New Look for the Mon Tsunami Wave Pool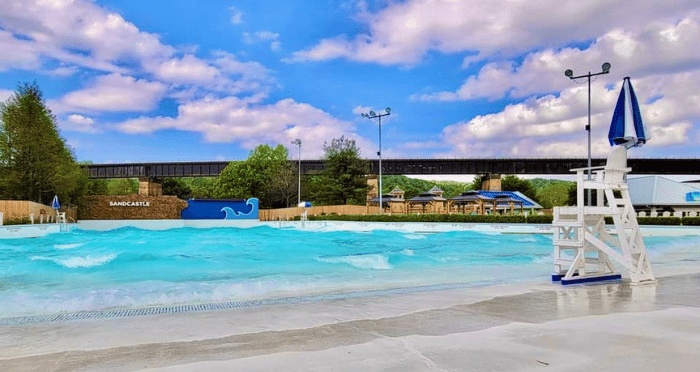 Look to the right as you enter the park and you'll notice that the Mon Tsunami Wave Pool has received a refresh. Boring cinderblocks have been replaced with a rocky facade and waterfall element. The perfect place to catch some waves and catch some sun!
4. A Fountain Straight from the Shore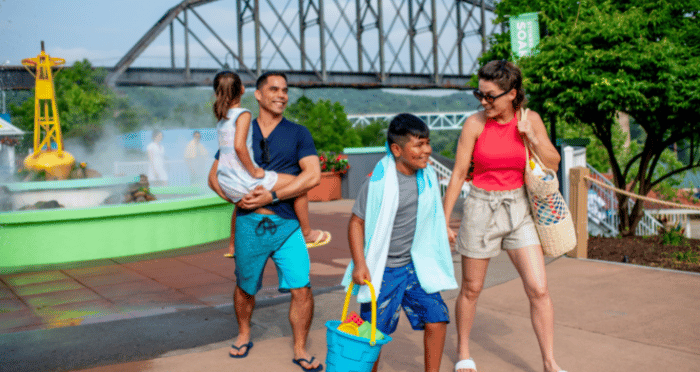 The old fountain that used to be in front of the entrance to the Boardwalk has received some cool upgrades, now themed to a fishing boat. It has some cool little effects as you walk by!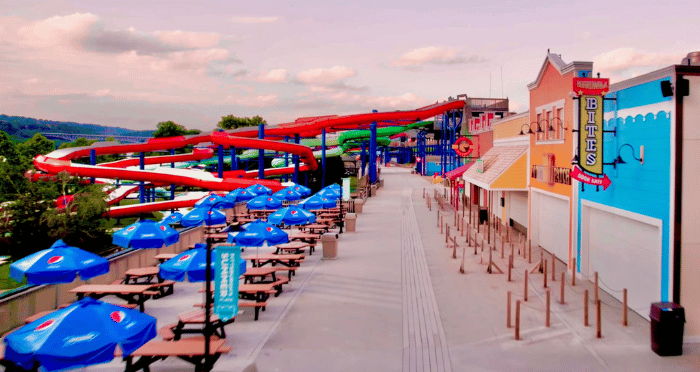 The Boardwalk: the main stretch of Sandcastle! This area has received a lot of attention, beginning with a large new sign to actually let you know you are entering the Boardwalk. New paint lines the buildings the whole way down, including the refreshment stands just before the slides. One of our favorite updates is at the classic Potato Patch, where a basket of fries on the facade has a cool little fog sequence. A subtle touch that, collectively, makes a big difference in your overall Sandcastle experience!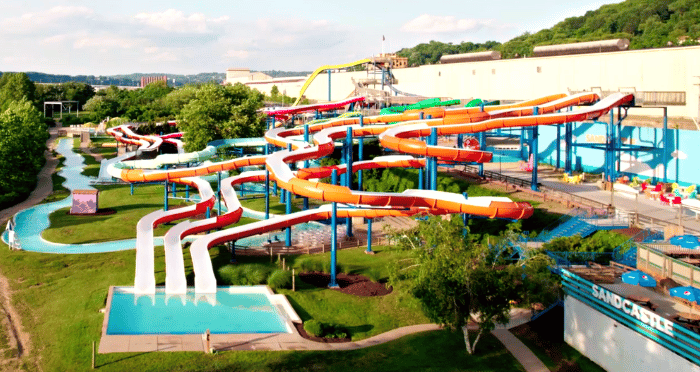 The slides: what Sandcastle is all about! They've received a fresh coat as well. Some of our favorites: Thunder Run's boring burgandy has been replaced with a vibrant orange, Blue Tubaluba now sports a new cool green color (it's still blue on the inside), and Tubers Towers returns to bright purple and pink colors. Sticking with the concept of transforming Sandcastle into a place that transforms you to the shore, these bright, beachy colors are a welcome change!
7. Bombs Away: Sandcastle's Newest Waterslide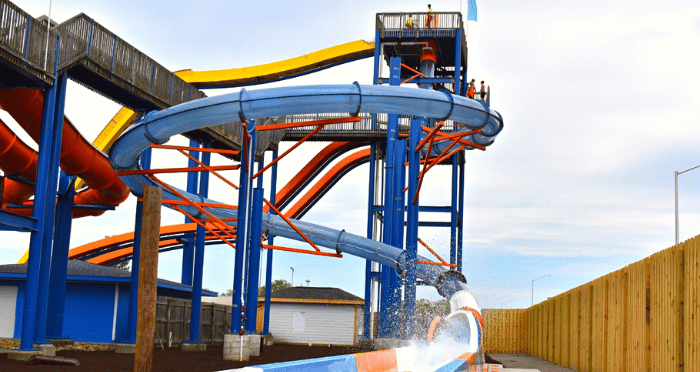 Of course, Bombs Away was not originally planned to be a component of the refurbishment project - but that's what ended up happening! Our newest slide drops you from the top of the Lightning Express speed slides. With your heart pounding, it's only a mere few seconds before the trapdoor rapidly drops from below you and you freefall down and around to the final splashdown. Bombs Away is for the true thrill seekers!
8. Sandcastle Sand (And Other Cool Photo Ops)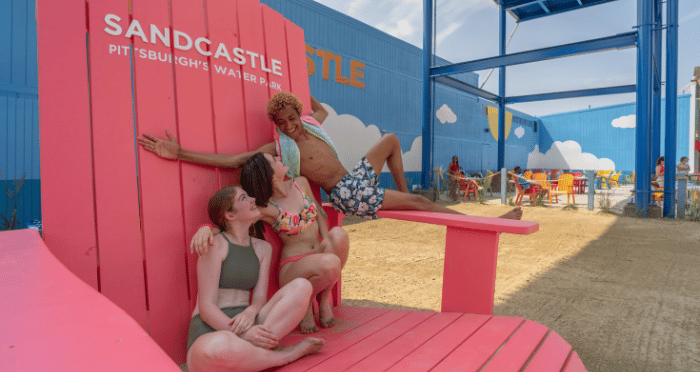 This one falls under the category of small touches that, collectively, make a big differennce. We've added a number of new photo spots to share your Sandcastle day with others - that make it seem like you're at a true vacation destination! One of our favorite new areas is under the slides, featuring this giant adirondack chair and sandy area, bringing a little more sand to Sandcastle (go figure?)!
9. A Breath of Fresh Air at the Sandbar and Mushroom Pool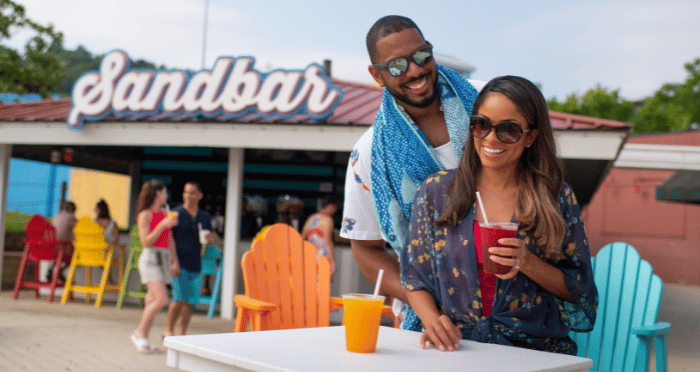 As the day drags on, you might be ready to hit up the Sandbar and take a seat. This classic Sandcastle bar right on the shore of the Monongahela River is home to beers and a variety of mixed drinks. Grab a seat or put the feet in the Murshroom Pool, which itself received a number of upgrades. This is also the home to Jammin' July, which occurs every Saturday in July. Featuring a variety of live music performances throughout the month, this area is the perfect place to enjoy the best parts of a Pittsburgh summer.
10. A Whole New Look and Feel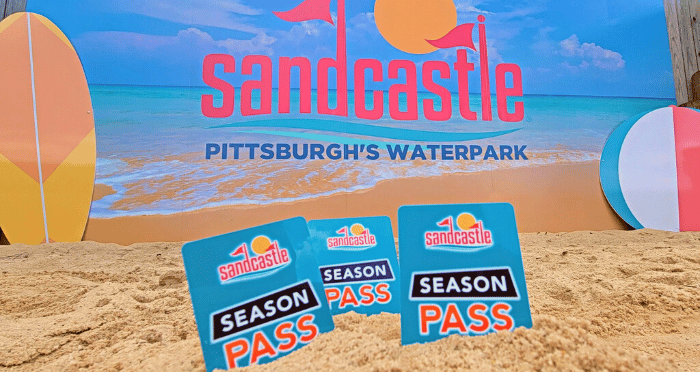 Part of our goal was this entire project is to help you look at Sandcastle in a whole new way. This means returning to the basics: the core purpose of Sandcastle, helping you to relax at what feels like the shore at a place that, in reality, is in your own backyard.  And don't forget, the work isn't finished yet! We still have a number of upgrades and improvements on the way for 2023, which we'll be excited to share with you as we get closer and closer to Opening Day on Saturday, May 27!
For now, check out our easy Season Pass payment plan options! Extended for a few bonus days, enjoy everything Sandcastle has to offer again and again for 5 easy payments starting at just $18 each. A steal of a deal! 5 Pay offer ends Sunday, February 26. Buy yours today and enjoy your most relaxing summer ever in a true Pittsburgh kind of way.